This is a Sponsored post written by me on behalf of American Frozen Foods Institute and the Frozen Food Roundtable. All opinions are 100% mine.
It's been a crazy summer. We have had company in and out all summer long and between vacations, the extended family getting together and a wedding we have been booked solid since April. To top it off, this month we found out my tiniest one needed surgery to remove a cyst on her chest.
I cannot tell you how convenient it was to have frozen dinners in the freezer all ready to go, making the recovery super easy. I love keeping my freezer stocked with food ready to go because it tastes great and is perfect for the meals that I have to prepare last minute. When I keep fresh produce on hand to throw together, they often go bad and end up being wasted.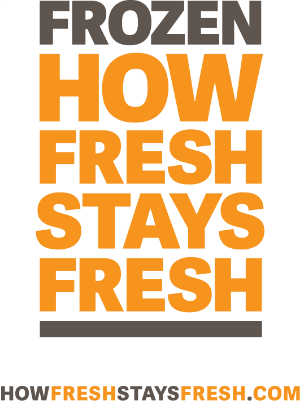 There is a promotional effort educating people about the benefits of frozen foods and fresh vs frozen called Frozen. How Fresh Stays Fresh. Freezing naturally pauses inspired recipes made with fresh, quality ingredients and suspends them there until the moment you're ready to enjoy them, locking in freshness, flavor and nutrients. It makes it super convenient to have delicious food on hand all the time without having a small window to use it in.
I was thrilled when we got home from surgery I didn't have to cook a whole meal and could just pop a delicious FRESCHETTA® pizza in the oven. My whole family loved it.
We have had a lot of company lately. A LOT. I love creating a bed-and-breakfast type atmosphere and cooking breakfast for my guests when they stay. However, sometimes life is crazy and it's not doable to cook a big breakfast every morning. For example, the morning after I got back from a 2-day trip to Idaho I went to bed at 2 am and woke up to guests. Another morning I was rushing to get my kids ready for church. Each time I still wanted to give my guests a hot breakfast but just didn't have the time to make it work.
Frozen breakfasts came to the rescue!!! I can pop a couple of eggos in the toaster and top with fresh fruit and whipped cream and it is still a breakfast that impresses with literally five minutes of work.
My kids think that Toaster Strudels are the best thing that has ever happened to breakfast.
Another morning I used a Jimmy Dean sausage breakfast skillet kit and with almost no work and very little time had an amazing breakfast my guests were raving about.
So stock up your freezer today and take advantage of the benefits of frozen foods.